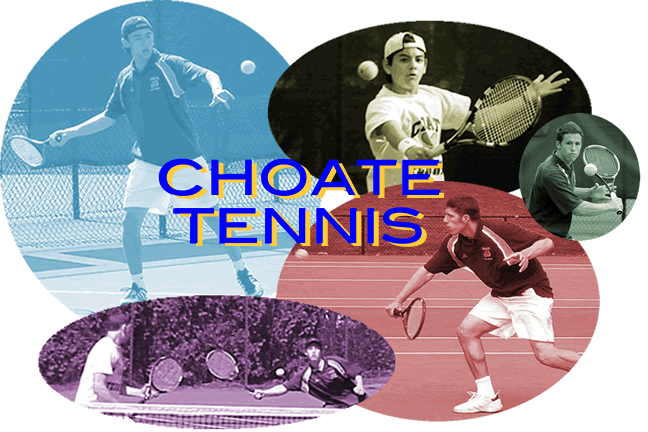 Since its beginnings in 1890, Choate Rosemary Hall has built a formidable reputation on a tradition of academic excellence. As we proceed into our second century, the focus on outstanding teaching and scholastic achievement is still at the heart of the school's mission. Fortunately, attainment in athletics also is an important part of our institutional heritage. At Choate, athletic excellence is judged not by a team's win-loss record, but by the skills, discipline, teamwork, sportsmanship, and dedication to improvement demonstrated by our student-athletes. Happily, the pursuit of these ideals--these "habits of excellence"--often results in winning efforts, as well. Choate Rosemary Hall teams and athletes in a wide range of sports are highly successful in competition at state, regional, and even national and international levels.
A Brief History of Choate Tennis
Tennis at Choate has a long and distinguished history. There was at least one court in existence on campus in the school's earliest days. Organized competition began in 1909, when boys and teachers played intramural matches on a court next to the old gymnasium. The Choate School's athletic department recognized tennis as an official sport in the spring of 1916 with the establishment of an interscholastic match schedule. Tennis became immensely popular at the school in the ensuing decades. The varsity team emerged as a perennial powerhouse among its prep school and collegiate rivals, rarely losing a match. Among Choate's best players were national champions and #1-ranked junior competitors.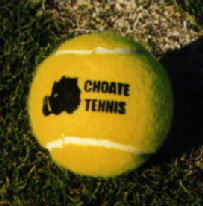 Choate Rosemary Hall teams in recent years have been unusually strong as well, completing several seasons undefeated and dominating competition in Founders League and New England prep school play. The Wild Boars have finished atop the New England prep school rankings repeatedly and claimed multiple championships in the New England Prep School Invitational Tennis Tournament. The school fields three interscholastic squads for boys in the spring and offers an extensive intramural program as well. The teams play the intercollegiate format, competing in six singles and three doubles matches with players permitted to play both singles and doubles.
Individually, Choate players have excelled at the interscholastic level (winning New England prep school singles and doubles championships, for instance) and have left the school well-equipped for further tennis success. Many Choate alumni have played intercollegiate tennis, some for Ivy League teams and even for traditional Division I tennis powers such as Stanford and Duke. In recent years, Choate team members have matriculated at Bates, Bowdoin, Boston University, Bucknell, Brown, Claremont, Cornell, Dartmouth, Georgetown, Harvard, Kenyon, McGill, Middlebury, Princeton, Tulane, Washington, Wesleyan, Williams, and Yale. A couple of former Wild Boars players have seen action on the pro circuit and as Davis Cup competitors.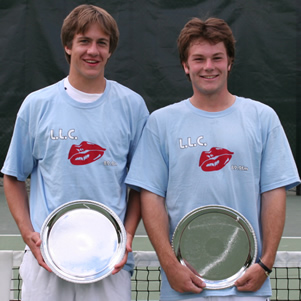 New England Prep School Doubles Champions Three-peat
Eliot Jia '06 and Ben Gettinger '07; Ben and Max Mullen '08; Brian McDermott '08 and Max
Tennis Facilities at Choate
We are fortunate to have ideal tennis facilities for training and match play, with no fewer than twenty-three tennis courts on campus--including three used for indoor play in inclement weather. October 1995 saw the dedication of the Torrence Hunt Tennis Center, a facility that ranks among the finest tennis complexes to be found at private clubs, resorts, or colleges, let alone high schools. Fourteen of the school's courts surround the clubhouse and there is stadium-style spectator seating overlooking each court. All the courts were rebuilt from scratch in 2010. Click here to learn more about the tennis facilities.
Choate has been fortunate to have a number of tennis legends grace its courts in match play through the years, including a dozen or so Grand Slam champions, from the great Bill Tilden through recent stars on the professional circuit. Choate's location, facilities, and reputation as a tennis power have made it an ideal venue for a variety of tournaments, clinics, and camps. The school routinely hosts major prep school tournaments in the spring: both the boys' and girls' New England Team Championships as well as the New England Prep School Invitational for outstanding singles players and doubles teams.
In addition to using outstanding facilities, Choate Tennis tries to stay on the cutting edge of coaching technology and makes good use of ball machines, video playback, and computer analysis of match play.
The Season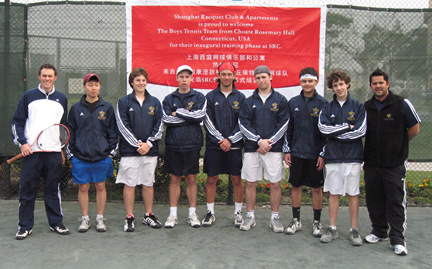 Choate Tennis China Tour
Team members in Shanghai with the local professionals.
The tennis season traditionally begins with optional spring break training trip, open to all interested in playing for Choate tennis teams; this week-long session represents an intensive effort to sharpen strokes and accrue match play experience before the formal beginning of the season. The team has traveled to South Carolina and Florida on the Eastern seaboard and to Indian Wells and Los Angeles in California.
Choate Tennis has traveled internationally in recent years as well. In 2006, the squad toured Beijing and Shanghai, and trained at the Shanghai Racquet Club. In 2008, the Coral Beach Club in Bermuda hosted the Wild Boars for their spring break training. Between 2009 and 2011 the squad prepped for the season in Montego Bay, Jamaica.
At the varsity level, we pursue as rigorous a match schedule as we can arrange during the course of the spring. Our regular season opponents include other schools in the Founders League--an athletic association of Connecticut independent schools--as well as those private and public schools throughout the Northeast with strong tennis programs. We get some of our strongest competition in early April at the Kingswood-Oxford Invitational Tennis Tournament in West Hartford, an event we have won repeatedly. Post-season play has included the New England Prep School Team Championships and the New England Prep School Invitational for standout singles players and doubles teams. The Choate players also enjoy a season-ending tradition: Hall of Fame Day, when the squad spends a day near the close of the school year in Newport, Rhode Island, visiting the International Tennis Hall of Fame and playing tennis on the grass courts where the first U.S. Championships were contested. Players on the team also vie for the Upshur Moorhead '30 Cup in the All-School Tennis Championships in late May.
The Coaches
Head coach Ned Gallagher has taught history and English at Choate for over twenty-five years and has coached athletes in a variety of sports at almost every level of competition--from local youth group teams to college squads. An alumnus of Williams College, Mr. Gallagher taught history and served as boys' varsity tennis coach at Phillips Academy (Andover, Massachusetts) prior to his 1987 appointment to the Choate Rosemary Hall faculty. He is a graduate of the TennisUniversity and Advanced TennisUniversity training programs for coaches, holds the highest level of professional certification credentials from both major organizations of tennis professionals--the USPTA and the PTR--and is an associate member of the Intercollegiate Tennis Association. He was named "Coach Of The Year" by the New England Division of USPTA in January 2009. Mr. Gallagher has been an executive board member of the Connecticut section of the United States Tennis Association and served on the advisory board of the PTR's New England Division as well. He also serves on the professional advisory staff for HEAD/Penn Racquet Sports. An experienced tournament organizer, Ned is the Executive Director of the New England Interscholastic Tennis Association. His summer activities have included directing junior tennis camps in New York, New Hampshire, and Connecticut and serving on the tournament staff of the Pilot Pen International, an ATP event staged in nearby New Haven. Coach Gallagher has conducted instructional and pro-am events with the likes of Rod Laver, Ken Rosewall, Fred Stolle, and many more all-time greats and current touring professionals, and his work as a clinician has been recognized in The New York Times. He has been a delegate to international coaches conferences held in conjuntion with Wimbledon and the Australian Open and has attended all four Grand Slam events as well as countless other professional tournaments. Besides coaching tennis, Mr. Gallagher coaches boys' cross country and girls' squash and supervises Memorial House, a dormitory of ninth- and eleventh-grade boys. He also has served as Choate's Director of Athletics since June 1996 and currently holds the Hubert S. Packard Chair for Distinguished Teaching.
Andrew Murgio has been affiliated with the Choate Tennis program as junior varsity coach since 2005. An alumnus of Dartmouth College and former faculty member at Bridgton Academy and Avon Old Farms School, Coach Murgio is chair of the mathematics department. He also coaches boys' thirds soccer.
Thirds team coach and 2006 Choate graduate Emily Lovejoy has returned to her alma mater to teach science and coach tennis after her graduation from Haverford College.
Frequently Asked Questions About Choate Tennis
A Conversation with Head Coach Ned Gallagher
How talented does a player have to be to expect to play on Choate's varsity team?
The answer to this question varies from year to year, of course. We usually keep between seven and nine players on the varsity squad, and in general there is a range of ability and experience in that group. As recently as the 1960s, Choate's top players earned #1 U.S. rankings in their age groups and were winning national junior titles. Obviously, the level of competition in junior tennis has exploded since then, so nowadays our top players are more likely to be pursuing sectional rather than national rankings, but our best players generally are outstanding competitors with a strong pedigree in the sport.

While some of our top players have earned berths on the varsity in their first year at school, others arrived as ninth- or tenth-graders and then worked their way through the ranks of the junior varsity in the course of their Choate careers before they earned a spot on the first team. We rarely have postgraduate students on the varsity tennis team--maybe one every ten years at most--so there's plenty of opportunity for dedicated young players to earn a letter in the sport while they're at Choate. We've got three terrific teams for boys and there's lots of good coaching to be had at the sub-varsity levels.
The guys who have been most successful on Choate teams are those who arrive at school as seasoned competitors with tournament experience. But playing year-round and maintaining a ranking is hardly a prerequisite for making the squad; every spring Choate's varsity roster includes a couple of players who are multi-sport athletes and don't have the chance to play a lot of tennis outside the spring season and the summer months. In fact, these players are largely responsible for our success through the years, for our depth is almost always second-to-none. The key ingredients possessed by those kids who have won varsity letters through the years are desire, a willingness to improve, a good work ethic, and mental toughness in the face of competition.
What sort of opportunities are there for off-season training?
This also varies from year to year, depending on the interests of the players. Many team members get involved in other interscholastic sports and such participation is strongly encouraged. In fact, in recent years, some of Choate's best tennis players on our strongest teams have been standouts in soccer (fall season) and squash (winter) in particular.
Some years, we facilitate regular training opportunities throughout the winter for a handful of players at an indoor club nearby. Usually this option is pursued by tournament players who plan to play a schedule of USTA junior events and are pursuing a ranking. We've had anywhere between one and six players involved in a winter training program like this in the last few years.
Candidates for the boys' teams are invited to attend our training trip during spring break in March. Players have found this optional trip a great way to prepare for the season. In the last decade, we've attended the Harry Hopman/Saddlebrook program just outside of Tampa and run our own trips to South Florida and Hilton Head Island. In the last decade or so, we made five trips out to California and enjoyed a week of practice alongside the world's best men and women pros at the joint ATP/WTA Tour event in Indian Wells as guests of Tournament Director Charlie Pasarell (P '99) and his family. And our international tours of China (2006) and Bermuda (2008) were enormously successful as well; we hope to take the team to Europe in the near future, too.
What about USTA tournament play?
Players attempting to maintain a ranking or qualify for national tournaments have to work hard to meet the demands of a rigorous academic institution such as Choate and still keep the necessary focus on tennis, but it's been done. I am happy to sit down with any of my players to build a tournament schedule that meshes well with the school calendar, largely because I believe tournament play is the best means of gaining precious match play experience under pressure. I firmly believe that academics has got to be the top priority here at Choate, but usually we have a lot of room to fit high quality tennis in around schoolwork.
What happens in a typical practice?
We have a set warm-up routine every day, and then we engage in a combination of drills and match play simulations. Practices typically include stroke isolation routines, shot sequences, doubles drills, conditioning exercises, and one-on-one sessions with the coach to fine-tune a particular aspect of play. It's important for me both to have my players address the basics regularly and to employ lots of variety in building a session in order to keep practices challenging and enjoyable and to keep everyone fresh throughout the season.
How might a player best prepare himself for a successful prep school tennis career?
My advice to any prospect would be to work on developing an all-court game, especially one featuring dependable net play--sound volleys and overheads are important assets in both singles and doubles. Over the years, I've noticed that most varsity prep school competitors tend to be solid baseline players, and I've only seen a few who could consistently attack well. The catch phrase I like to teach my players is "Make It Happen," which means I want them to dictate play whenever possible.
The most important skill young players need is mental toughness; they need to learn to compete. Those players who have experience playing under tournament conditions are those who adapt most quickly and most successfully to the game at the prep school level. So it's not enough to polish strokes in endless hitting sessions with a coach, you've got to put it on the line on a regular basis!
What distinguishes Choate's tennis program from those of its competitors?
The key word in the question is program. Any coach can bring a hopper of balls to practice, drive the van to away matches, and take credit when good players win easy matches, but that's not a program, it's an act. It would be easy for us at Choate to rest on our laurels, because we've been fortunate to have had a lot of success in tennis through the years--more than any of our competitors. But I feel I'm doing my players a disservice if they don't learn while they're here. I'm a teacher first and foremost, so I'm always eager to see players leave Choate with more of a game than they had when they arrived. Whether it's a reliable backspin backhand or a dependable kick serve or confidence at the net or an understanding of the nuances of doubles, I want my players to have tools they can use wherever their tennis will take them, be it intercollegiate play or in the Over 70s championship at their country club many years down the road.
I try to schedule the toughest opponents I can find for the Choate team so our players are exposed to the best competition around. I believe that in most cases a team that finishes a season undefeated was underscheduled. Any squad can have a perfect season with a handpicked schedule. But we don't duck anybody at Choate. I think our kids become tougher competitors because of that. And our great seasons are more meaningful. I've also noticed that a tough schedule attracts good players to the school, too.
Finally, at the heart of this program is a set of values I hope to pass along to my charges. First and foremost is a dedication to sportsmanship (see the Credo below). Second is an appreciation of the traditions of the game, both here at Choate and beyond--that's why we have an annual event with Choate Tennis alumni and why we head over to Newport at the end of the season to play on grass courts and tour the Hall of Fame. Third, there's the importance of the relationships that define our team: coach-player and teammate-teammate. And of course, there's always the sheer unadulterated fun of the sport; I believe that if we're not having any fun, we're just not doing it right!
Choate Tennis Credo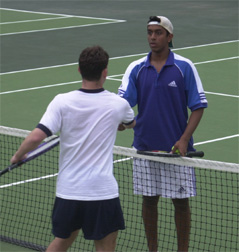 Excellence in Choate Tennis is not related to wins and losses, but rather includes:
working hard in practice and conditioning;
hustling all out in all points of all matches;
taking justifiable pride in your good play and improvement;
giving unreluctant praise to your opponent for his good play and improvement;
knowing "The Rules of Tennis" and "The Code" and playing within them;
upholding the highest standards of fair play and sportsmanship;
leaving the court certain that in every way you represented your team and school in an honorable manner.
Choate players in the past shared this belief in what Excellence really is. That fact, more than all the championships, has made our program successful. If you believe in it, you will be successful, too, no matter if you ever win a match or not.
To contact Head Coach Ned Gallagher:
you can send e-mail to
call 203-697-2418
fax 203-697-2601
or write to:
Coach Ned Gallagher
Choate Rosemary Hall
333 Christian Street
Wallingford, CT 06492-3800

Kinsgwood-Oxford Invitational Champions
Choate players show off their singles, doubles, and team trophies.
[ New England Interscholastic Tennis Association Home Page ]
Photo credits: Sue Cossette, Gary Dormandy, Ned Gallagher, Ian Morris, Ryan Vasan '00, Rebecca Weiss '05.
Copyright © 1996-2012 Choate Tennis. All rights reserved.
Last revised: September 28, 2012